Over 9,000 trees and ornamental shrubs
Our Nelson nursery has a large variety of plants available year round.
We regularly freight even the largest of trees to all parts of New Zealand. You can review our catalogue for details.
Complete delivery and planting solutions
No project is too large. We specialise in preparation, transport, and planting of every variety we carry. Learn more about our delivery services.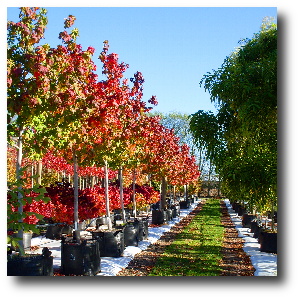 There are many advantages to picking large mature plants.
Large trees and shrubs provide immediate and natural shade, privacy, and ambiance.
By using our large, well matured trees and plants, you can transform a barren landscape into a veritable forest or garden grove over night.
The pricing for such a benefit is more affordable than you might believe, and we recommend a visit to our nursery to find out details.
We have mature trees and plants from 1/2 meter to 5 meters in stock most of the season.
Big Plant Depot is a Nelson based specialist grower of large trees and large shrubs for landscaping and gardens.
We offer a very large variety of fully mature trees, shrubs, flowering bushes and decorative plantings.
Our stock of available plants includes fully mature pittosporum, canton lace, gordonia Moon Light Magic, mature Japanese maples, and over one thousand others.
We also hire plants out for events and special occasions for indoor and outdoor displays. Visit our nursery (situated at 462 Main Road Hope, just south of Richmond township in Nelson) to review stock or call us for any details.